Our ephemeral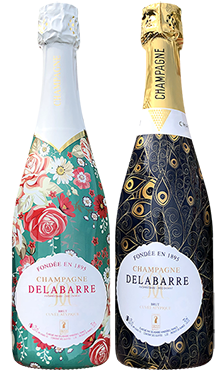 ATYPIQUE
Limited edition !
Blend: three Champagne grape varieties from our 2009 harvest
It is with great pleasure that we present our "ATYPICAL Cuvée" created by my daughter Charline and my son-in-law Georges-André.
Its sweet side on the nose, winey and slightly woody to the taste; this round, sweet wine and its amber yellow color will be particularly appreciated as an aperitif and will not leave you indifferent!
Order 28.00 €
ELÉNA
NEW! Cuvée ELÉNA limited edition
Made exclusively from the 2016 harvest. 100% Vintage with a blend of 50% Pinot Noir and 50% Chardonnay, in a very limited edition of 200 copies.
The Eléna cuvée was made for the birth of Charline and Georges' daughter. With its generous and endearing side, Pinot Noir brings sweetness while the character of Chardonnay is reflected in its lively and energetic side.
Order 60.00 €